Today I finished Izzie's Halloween costume..and he is SO CUTE in it!!
I wish I had taken a picture of the two coats I cut up in order to make it....
kicking myself for that..
it's impossible to tell that an old Dorothy Perkins Coat and
a fuzzy white sweater from Japan (both thrift store finds)
are now izzie bebe's Panda Suit.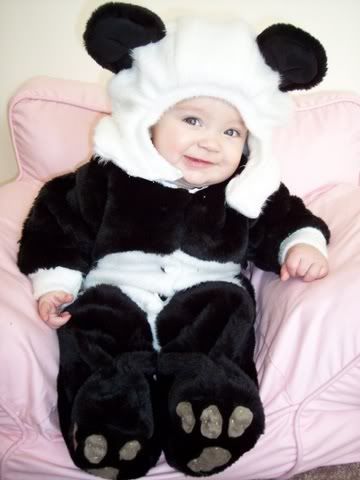 We pretty much played dress up all day. After I put him in the Panda Suit I dressed him and Lola up in their Halloween outfits and tried to get a cute picture of the two of them..
and then for the GRAND FINALE I put izzie bebe in a dress.. ;)
shhhh.. Don't tell Michael...
I think he would make a beautiful girl!
I entered the picture in a 'most convincing cross dresser' contest
on the ivillage playgroup we're a member of.. i'll update if
he wins :)